A Clean, Fresh, Korean-Inspired Menu
Situated in the heart of downtown Harrisonburg, Mashita offers finely crafted, made from scratch cuisine utilizing fresh ingredients from vendors throughout the Shenandoah Valley. Driven by the idea of providing new diversity to the local culinary scene, Mashita has grown from humble roots as a food truck favorite into a downtown restaurant with a kitchen and staff capable of catering for hundreds. Learn about our journey…
CURRENT SPECIALS
Our everyday menu features a full selection of delicious shareables, entrees, buns, ssam, sides, desserts, beer, wine & sake. Every week we offer specials items to give our customers the chance to experience exciting new flavors and dishes.
Today's specials are: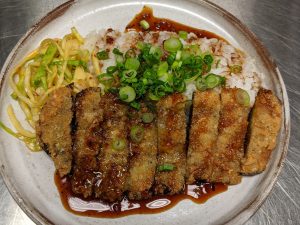 Vegan Eggplant Katsu
Panko battered eggplant, short grain rice, vegan cabbage slaw, sweet chili-soy sauce, and scallions
$12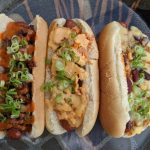 Korean Style Hot Dogs
Bulgogi Dog - all beef hot dog topped with your choice of beef or chicken bulgogi, gochujang aioli, & scallions
Chilli Dog - all beef hot dog topped with house-made chilli, cheddar dashi sauce, & scallions
Kimchi Dog - all beef hot dog topped with our caramelized kimchi, kimchi aioli, & scallions
$5.50 each
Crab Cake
Seared & served with apple yogurt slaw.
$14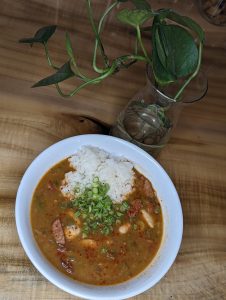 Seafood Gumbo
Chef Mikey's seafood gumbo preparation with okra, andouille sausage, peppers, onions, celery, mahi mahi, and gulf shrimp served in a large bowl with our short grain rice
$16.99
Follow us on Instagram, Twitter or Facebook to get daily updates on new specials!
"An understated atmosphere with refined touches is nothing compared to the unbelievably good food you're served here. Very highly recommended."
– Hunter Carter, Google Local Guide
ENJOY SSAMTHING WONDERFUL