Mashita has grown from humble roots as a food truck favorite, into a restaurant with free multicade games, bar, and a kitchen and staff capable of catering for hundreds.
Meet The Chef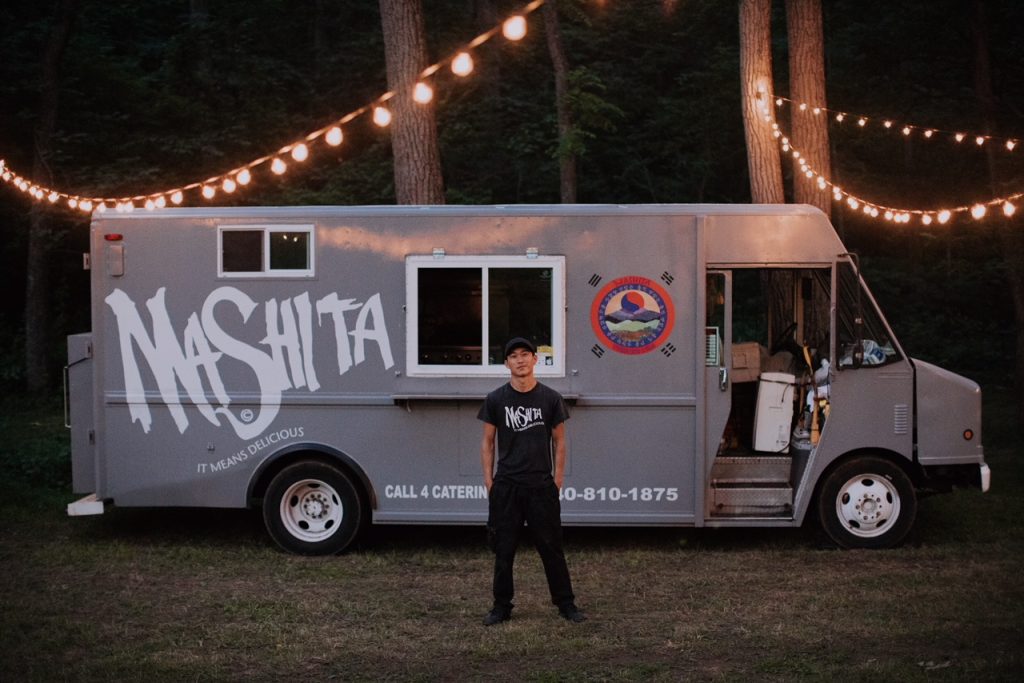 Our chef and owner, Mikey Reisenberg, born in Seoul, South Korea, was adopted at a young age. Growing up in the Shenandoah Valley, he attended Turner Ashby High School before earning a degree in History from James Madison University. Raised in a family of entrepreneurs, Mikey grew up working for their various businesses, where he learned the importance of community, relationships, and hard work. It came as little surprise to friends and family when he developed a business plan to start something of his own.
Mikey credits his mother and father for his passion, work ethic, foundational cooking knowledge and belief that food nourishes the body and soul. He was first introduced to the culinary arts through home-cooked meals; family dinners and reunions were rooted in a friendly competition for the tastiest dish, and any opportunity to try something new was embraced. He learned his craft from family, culinary literature, and talented chefs who shared their knowledge. An avid home chef, Mikey would prepare extravagant meals for friends and family, practicing different techniques and recipes. He continues to learn, teach, and produce dishes inspired by all forms of memory and experience.
Mikey opened the Mashita food truck on September 10, 2013, earning multiple awards since its inception. Now, Mashita has expanded into a full-service restaurant located in downtown Harrisonburg, with the hopes of growing their reputation for serving delicious Korean-inspired foods.
Our Story
The Mashita food truck was born on September 10, 2013 as the product of Mikey's desire to create a unique new dining option that stressed high-quality food in a fast-casual environment. The initial focus revolved around a specialized menu of items prepared from scratch, with an emphasis on steamed buns and Korean lettuce wraps called ssam. Many ingredients were, and still are, sourced locally, which inspired creative ways to utilize local ingredients while staying true to Korean flavors.
"Mashita embraces many French influences, whether through technique or process, blended with Korean flavors for a more refined and inspired experience."

– Mikey Reisenberg
Mashita has established its identity as an award-winning eatery and caterer, voted Best Food Truck by the readers of the Daily News Record, Rocktown Weekly, and Virginia Living Magazine. After six years in business, Mashita's restaurant space opened its doors for the first time on October 1, 2019. A unique and cozy space, the initial, smaller dining room was filled with local lumber from Black Forest Sawmill in Crimora, VA, including the unique tabletops built by Mikey himself; wall decor featuring the work of talented local artists and a colorful mural completed by Mike Arellano; succulents from Port Farm line the windowsills; with custom shelving installed by local woodworker Scott Flora.
In December of 2021, Mashita expanded their dining room to include more seating, a private patio with graffiti work by local artists, live-edge bar handcrafted by Brad at Knoched VA, and free multi-cade games.
The menu includes classic staple items from the food truck, incorporates a wider range of options to satisfy diverse tastes, while continuing the tradition of using local ingredients and made-from-scratch recipes. Specials are regularly featured, including unique and delicious dessert options. The new space offers beer, wine, and sake for on or off-site consumption, featuring many local breweries, vineyards, and chilled sake from North American Sake Brewery in Charlottesville, VA.

Supporting Fellow Entrepreneurs in The Valley
Our vision for Mashita has always been to provide a unique culinary experience that relies heavily on local vendors right here in the Valley. From design and decor to fresh ingredients and alcohol, we appreciate our fellow Valley business partners who contribute to the Mashita experience. Click here to view the entire list.