Crafted with fresh ingredients from vendors throughout the Shenandoah Valley, Mashita presents a Korean-inspired menu that delivers classic cultural flavors and exciting new combinations.
* INDICATES GLUTEN-FREE AVAILABILITY. Please notify us while placing your order if you prefer the Gluten-Free option!
Current Specials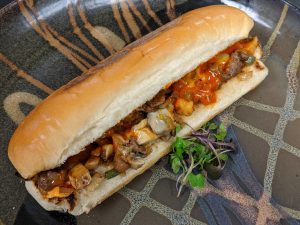 Bulgogi Steak & Cheese
choice of chicken bulgogi or beef bulgogi, toasted roll, kimchi aioli, gochujang aioli, onions, peppers, mushrooms, and pepper jack cheese
$11.99
3 Bun Combo
3 steamed buns with your choice of any of our standard proteins and one sauce. Premium proteins (Pork Belly or Brisket) are available for an additional $3 per bun.
$10.00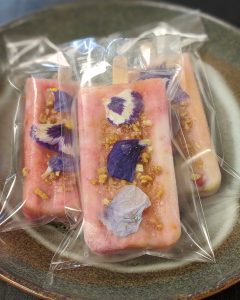 Frozen Yogurt Bars
Housemade yogurt, sweetener and formed into popsicle bars with your choice of local strawberry with crystallized ginger -OR- local blueberry with sweet sesame "rocks"
$3
TakeAway Catering
Let us add to your cookout, with any of the below take-away options.
1 Tray of Steamed Buns with Choice of up to 2 Standard Proteins (includes 25 buns) - $80 (Premium Proteins available for an additional cost)
*Baked Macaroni & Cheese - $75 per pan (feeds about 40)
*Kimchi Macaroni & Cheese - $90 per pan (feeds about 40)
Korean Style Black Beans - $22 per quart
Quick-Pickle Kimchi - $18 per quart
Bean Sprouts with Sweet Chili Dressing - $10 per quart
Steamed Short Grain Rice - $8 per quart
*Requires at least 24 hours notice
Shareables
CARAMELIZED KIMCHI FRIES
crispy fries, caramelized kimchi, cheese, scallions, and gochujang sauce
$7.95
add protein of your choice for $3.00
FRIED MANDU DUMPLINGS
pork and veggie dumplings wrapped in a wheat wrapper and fried til crispy, served with choice of sauce
$8.95
CARAMELIZED KIMCHI QUESADILLA
10″ flour tortilla, blend of cheeses, caramelized kimchi, served with choice of sauce
$6.95
add black beans for $1 and protein of your choice for $3
*JAPCHAE
sweet and savory stir-fried glass noodles, veggies, mushrooms, and protein of your choice
$12.95
make it spicy for $1
*KIMBAP
nori roll, sesame rice, egg, veggies, and choice of protein
$6
add kimchi for $0.75
Entrees
*MASHITA BIBIMBAP
mixed rice bowl, greens, veggies, pickled Korean radish, fried farm egg, protein and sauce of your choice
$12.95
*VEGGIE BAP
mixed rice bowl, cucumbers, bean sprouts, kimchi, shiitake mushrooms, tofu, fried farm egg, and sauce of your choice
$12.95
KOREAN STYLE BURRITO
large flour tortilla, short-grain rice, bean sprouts, kimchi, your choice of protein and sauce. Request your burrito grilled for a crispy outside.
$9.95
add black beans for $1
FRIED CHICKEN SANDWICH
breaded and fried thigh meat, toasted bun, house-made pickled cucumbers, gochujang "ketchup"
$7.95
CHICKEN KATSU
breaded and fried chicken thigh served over short-grain rice with sweet & savory sauce
$9.95
BRISKET SANDWICH
twice cooked brisket, toasted bun, scallion aioli, local microgreens, and sesame-soy glaze
$8.95
Buns & Ssam
STEAMED BUNS
pillowy soft house-made wheat bread with your choice of protein and sauce
$4.00/each
STEAMED BUNS COMBO
make it a combo with 2 buns, one sauce and one side of your choice
$9.50/combo
*SSAM COMBO
local hydroponic bibb lettuce with choice of protein, side, and sauce
$12.95/combo
Proteins
BEEF OR CHICKEN BULGOGI
thinly sliced // marinated // sweet & savory
*BRAISED PORK OR CHICKEN
slow braised // savory // hand pulled
*BRISKET
slow-roasted // savory // twice-cooked
add $3.00
*PORK BELLY
slow-roasted // savory // twice-cooked
add $3.00
*SWEET CHILI-SOY TOFU
firm tofu // marinated // seared
*SHIITAKE MUSHROOMS
roasted // savory // umami
Sides
*FRENCH FRIES
$3
*STEAMED SHORT GRAIN RICE
$1.50
*BEAN SPROUT SALAD WITH SWEET CHILI DRESSING
$3
*QUICK PICKLE KIMCHI
$3
*KOREAN STYLE BLACK BEANS
$3
*HOUSE SALAD
$4.95
Sauces
*SWEETENED SOY
SWEET AND SPICY MASHITA
*SPICY GOCHUJANG
Beer, Wine & Sake
Our selection is constantly changing thanks to the outstanding local vendors in and around the valley. We're currently featuring:
Lagunitas Daytime IPA
Cigar City Jai Alai IPA
Basic City Bask Double IPA
New Belgium Brewery Fat Tire
Deschutes Tangelo & Cardamom Sour Ale
Deschutes Fresh Haze IPA
Stone Brewing Xocoveza
Pabst Blue Ribbon
Beale's Gold Lager
Angry Orchard Hard Cider
Cono Sur Bicicleta Reserve Viognier
Heinz Eifel Shine Riesling
Gabriele Rausse Cabernet Sauvignon
North American Sake Brewery – Quiet Giant, Big Baby, Real Magic & Moon Leap