Crafted with fresh ingredients from vendors throughout the Shenandoah Valley, Mashita presents a Korean-inspired menu that delivers classic cultural flavors and exciting new combinations.
* INDICATES GLUTEN-FREE AVAILABILITY. Gluten Free Orders are subject to a $1.00 upcharge due to cost of ingredients. Please notify us while placing your order if you prefer the Gluten-Free option!
Current Specials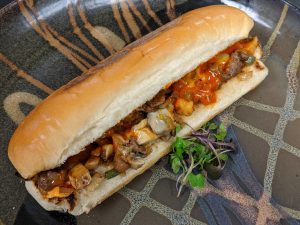 Bulgogi Steak & Cheese
choice of chicken bulgogi or beef bulgogi, kimchi aioli, gochujang aioli, onions, peppers, mushrooms, and pepper jack cheese on a toasted 6" roll
$11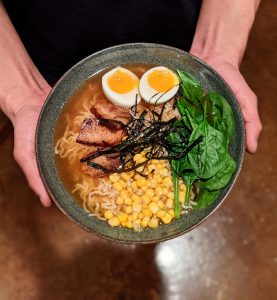 Tonkotsu Ramen
Savory pork broth, alkaline noodles, spinach, sweet corn, pork belly, nori, shredded pork neck, and farm fresh tokyo style egg
$16.99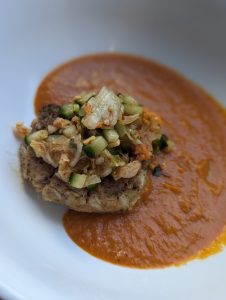 Crab Cake & Shrimp Bisque
jumbo lump crab cake served with shrimp bisque that functions as sauce, and a cucumber-kimchi relish
$13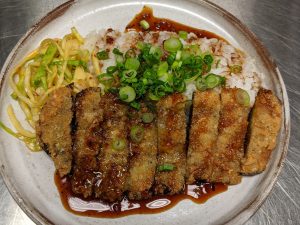 Vegan Eggplant Katsu
Panko battered eggplant, short grain rice, vegan cabbage slaw, sweet chili-soy sauce, and scallions
$10.50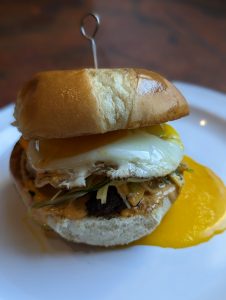 Smash Burger
smash burger served on a toasted bun with kimchi aioli, leek muchim, and a sunny side up quail egg
$6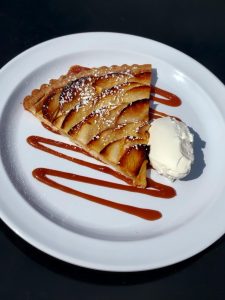 Apple Tart
French-style apple tart made with local apples and glazed with a citrus honey-beer reduction. Served with whipped cream and caramel sauce.
$7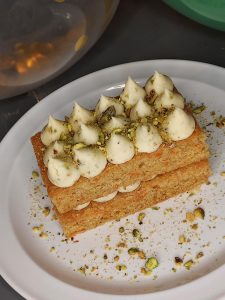 Carrot Cake
House-made carrot cake with pistachio frosting and topped with pistachio pieces.
$7
Shareables
CARAMELIZED KIMCHI FRIES
crispy fries, caramelized kimchi, cheese, scallions, and gochujang sauce
$9.99
add protein of your choice for $3.00
FRIED MANDU DUMPLINGS
pork and veggie dumplings wrapped in a wheat wrapper and fried til crispy, served with choice of sauce
$8.99
CARAMELIZED KIMCHI QUESADILLA
10″ flour tortilla, blend of cheeses, caramelized kimchi, served with choice of sauce
$8.99
add black beans for $1 and protein of your choice for $3
*JAPCHAE
sweet and savory stir-fried glass noodles, veggies, mushrooms, and protein of your choice
$14.99
make it spicy for $1
*KIMBAP
nori roll, sesame rice, egg, veggies, and choice of protein *NOT AVAILABLE AFTER 5PM
$8.99
add kimchi for $0.75
3 BUN SAMPLER – pillowy soft housemade steamed buns filled with your choice of proteins for $12.50
Entrees
*MASHITA BIBIMBAP
mixed rice bowl, greens, veggies, pickled Korean radish, fried farm egg, protein and sauce of your choice
$14.99
*VEGGIE BAP
mixed rice bowl, cucumbers, bean sprouts, kimchi, mushrooms, tofu, fried farm egg, and sauce of your choice
$14.99
KOREAN STYLE BURRITO
large flour tortilla, short-grain rice, bean sprouts, kimchi, your choice of protein and sauce. Request your burrito grilled for a crispy outside.
$9.99
add black beans for $1
FRIED CHICKEN SANDWICH
breaded and fried thigh meat, toasted bun, house-made pickled cucumbers, gochujang "ketchup"
$7.99
CHICKEN KATSU
breaded and fried chicken thigh served over short-grain rice with sweet & savory sauce
$11.99
BRISKET SANDWICH
twice cooked brisket, toasted bun, scallion aioli, local microgreens, and sesame-soy glaze
$8.99
Buns & Ssam
STEAMED BUNS
pillowy soft house-made wheat bread with your choice of protein and sauce
$4.50/each
STEAMED BUNS COMBO
make it a combo with 2 buns, one sauce and one side of your choice
$12.00/combo
*SSAM COMBO
local hydroponic bibb lettuce with choice of protein, side, and sauce
$14.99/combo
Proteins
BEEF OR CHICKEN BULGOGI
thinly sliced // marinated // sweet & savory
*BRAISED PORK OR CHICKEN
slow braised // savory // hand pulled
*BRISKET
slow-roasted // savory // twice-cooked
add $3.00
*PORK BELLY
slow-roasted // savory // twice-cooked
add $3.00
*SWEET CHILI-SOY TOFU
firm tofu // marinated // seared
*MUSHROOMS
roasted // savory // umami
Sides
FRENCH FRIES
$4
*STEAMED SHORT GRAIN RICE
$2.00
*BEAN SPROUT SALAD WITH SWEET CHILI DRESSING
$4
*QUICK PICKLE KIMCHI
$4
*KOREAN STYLE BLACK BEANS
$4
*HOUSE SALAD WITH SWEET SESAME VINAIGRETTE
$6.95
Sauces
*SWEETENED SOY
SWEET AND SPICY MASHITA
*SPICY GOCHUJANG
Additional Sauces: $.75 each
Specialty Cocktails, Beer, Wine, Sake & Spirits
Our selection is constantly changing thanks to the outstanding local vendors in and around the valley.
Housemade Sake Cocktails
Fruit Spritz – Chef's choice flavor topped with sparkling brut
Eastern Sunrise – sake, mango, cranberry, & lime
The Drunk Carrot – carrot & ginger infused sake
Sake Margarita – sake, lemon, & lime
Sangria – with citrus flavors
Craft Cocktails
Gentleman's Ward – whiskey, lemon, orange, grenadine
The Bramble – gin, lemon, berry
Jikdo – vodka, sake, lime, ginger, cucumber
Spicy Pineapple Paloma – tequila, lime, pineapple, grapefruit, kochukaru
Non-Alcoholic Beverages
Coke
Mexican Coke (bottle only)
Cherry Coke
Diet Coke
Mr. Pibb
Sprite
Dasani (bottle only)
Fruit Punch
Gold Peak Sweet Tea (bottle only)
Desserts
*Vanilla Panna Cotta with seasonal topping – $7
Steamed "Doughnut" Holes with vanilla icing – $6
Fried Bao Rounds with apple compote and caramel drizzle – $6
*For dine-in, parties of 6 or more are subject to an automatic 20% gratuity